VITO AG
Excellence in Oil Filtration
VITO AG
100% made in Germany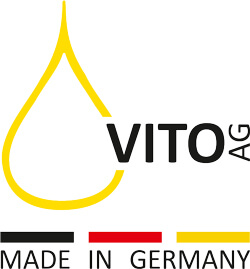 Excellence in oil filtration
With more than 22 years of experience in production and sales of filtration systems, VITO filters became a standard in professional kitchens and bakeries. Founded in 2001 by Andreas Schmidt under the brand of SYS Systemfiltration GmbH, has now grown to a company with 50 employees, subsidiaries in Hürth (Germany), Orlando (USA), Dubai (U.A.E) and Santa Lucia Di Piave (Italy), and was changed in 2014 to VITO AG, a German corporation.
Today VITO is known in 150 countries and over 50.000 customers confirm that we are on the right track.
100% Made in Germany.
All VITO filter systems are produced in the headquarter in Tuttlingen, Germany. Our quality specialists thoroughly check the quality of products throughout the entire production process, from material receipt and the process of assembly, testing, packaging and shipping.
Only the best quality products are leaving our facilities. The quality of VITO is being confirmed by hundreds of satisfied customers who use them daily in the most demanding operations.
---
Visit our YouTube channel for more videos