VITO AG
Excelencia en filtración de aceite
VITO AG
100% Hecho en Alemania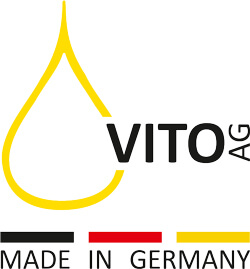 Excelencia en filtración de aceite
Con más de 22 años de experiencia en la producción y venta de sistemas de filtración, los filtros VITO se volvieron básicos en las cocinas y panaderías profesionales. Founded in 2001 by Andreas Schmidt under the brand of SYS Systemfiltration GmbH, has now grown to a company with 50 employees, subsidiaries in Hürth (Germany), Orlando (USA), Dubai (U.A.E) and Santa Lucia Di Piave (Italy), and was changed in 2014 to VITO AG, a German corporation.
Actualmente VITO es conocido en 150 países y más de 50.000 clientes confirman que estamos en el camino correcto.
100% Hecho en Alemania
Todos los sistemas de filtración VITO son producidos en la sede principal en Tuttlingen, Alemania. Nuestros especialistas en calidad comprueban minuciosamente la calidad de los productos a lo largo de todo el proceso de producción, desde la llegada del material y el proceso de montaje, pruebas, embalaje y envío.
De nuestras instalaciones salen únicamente productos de la mejor calidad. La calidad de VITO viene siendo confirmada por cientos de clientes satisfechos que las utilizan a diario en las operaciones más exigentes.
---
Videos
Compañero de los Chefs