VITO AG
Best innen oljefiltrering
VITO AG
100% produsert i Tyskland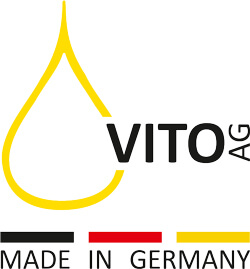 Best innen oljefiltrering
Med mer enn@@ års erfaring innen produksjon og salg av filtersystemer, har VITO blitt standard innen profesjonelle kjøkken og bakerier. Founded in 2001 by Andreas Schmidt under the brand of SYS Systemfiltration GmbH, has now grown to a company with 50 employees, subsidiaries in Hürth (Germany), Orlando (USA), Dubai (U.A.E) and Santa Lucia Di Piave (Italy), and was changed in 2014 to VITO AG, a German corporation.
I dag er VITO kjent i @@ land og over @@ proffkjøkkenkunder bekrefter at vi er på rett vei.
100% produsert i Tyskland
Alle VITO filter systemer er produsert ved VITO Hovedkvarter i Tuttlingen, Tyskland. Alle våre kvalitetsprodukter er kontinuerlig kontrollert av vårt spesialist team gjennom hele produksjonsprosessen, fra varemottak til montering, testing, pakking og forsendelse.
Kun de beste kvalitetsprodukter forlater våre lokaliteter. VITO kvalitetsprodukter blir bekreftet av hundrevis av fornøyde kunder som bruker VITO daglig under krevende forhold.
---