VITO AG
Excellence en filtration de l'huile
VITO AG
100% made in Germany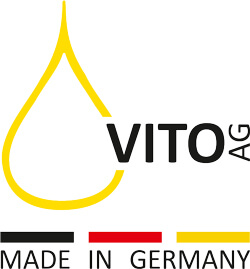 Excellence en filtration de l'huile
Avec plus de 22 ans d'experience en fabrication et distribution de systèmes de filtration, le VITO est devenue un standard dans les cuisines professionnelles et en pâtisserie. Founded in 2001 by Andreas Schmidt under the brand of SYS Systemfiltration GmbH, has now grown to a company with 50 employees, subsidiaries in Hürth (Germany), Orlando (USA), Dubai (U.A.E) and Santa Lucia Di Piave (Italy), and was changed in 2014 to VITO AG, a German corporation.
Aujourd'hui, VITO est connu dans 150 pays et plus de 50.000 clients confirment que nous sommes sur la bonne voie.
100% Made in Germany.
Tous les systèmes de filtration VITO sont fabriqués au siège à Tuttlingen, Allemagne. Nos experts de qualité contrôlent soigneusement la qualité de nos produits pendant tout le processus de production, de la réception du matériel et le processus de montage, essais, emballage et transport.
Seulement les produits de meilleure qualité quittent notre usine. La qualité de VITO est confirmé des centaines de clients satisfaits qui les utilisent quotidien dans les opérations plus exigeantes.
---
Vidéos
Partenaires des Chefs