VITO AG
Excellence in Oil Filtration
VITO AG
100% made in Germany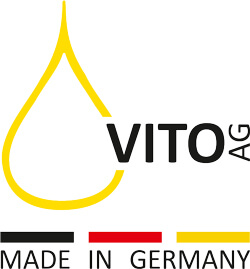 Excellence in oil filtration
Mit mehr als 22 Jahren Erfahrung, sowohl in der Produktion, als auch im Verkauf des Frittierölfilters wurden VITO Filter zum Standard in professionellen Küchen und Bäckereien. Founded in 2001 by Andreas Schmidt under the brand of SYS Systemfiltration GmbH, has now grown to a company with 50 employees, subsidiaries in Hürth (Germany), Orlando (USA), Dubai (U.A.E) and Santa Lucia Di Piave (Italy), and was changed in 2014 to VITO AG, a German corporation.
Heute ist VITO in 150 Ländern bekannt und über 50.000 Kunden bestätigen, dass wir auf dem richtigen Weg sind.
100% made in Germany
Alle VITO Frittierölfilter werden im Stammsitz in Tuttlingen, Deutschland, produziert. Unsere Spezialisten stellen die Qualität der Produkte während des gesamten Produktionsprozesses- vom Materialeingang über die Montage, die Prüfung und Verpackung bis hin zum Versand- sicher.
Nur Produkte bester Qualität verlassen unsere Fertigungsstätte. Die Qualität der VITOs wird von hunderten zufriedenen und überzeugten Kunden bestätigt, die das Gerät täglich in den anspruchsvollsten Abläufen einsetzen.
---